BeReal as a counterfunctional app with frictional tendencies
An area that I'm exploring revolves around the idea that detaching design from the requirement of efficiency could lead to the creation of objects that promote reflection on various topics – personal data and the role of technology in my case. This is not a new concept per se, as it is better described by more renowned researchers that define Critical Design and Speculative Design. While these approaches to design usually produce prototypes that embed discourse and reflections in their realisation, by definition they never become true products, rather they remain non achievable by design. They do so by exploring existential questions, implications of design in society, and they become objects of inquiry that spark reflection, discussion, and they question the status quo. I frame these efforts under the umbrella term of "design for friction" – design objects that rather than choosing the most efficient route to solve a problem, they incorporate roadblocks, ambiguity and unfamiliarity to elicit a reaction in people.
There are some instances in which ideas wind up using methodologies eerily similar to the ones discussed above, without necessarily being part of that specific framework.
Recently, for example, I have been toying and using BeReal, the new social network craze that is being framed as "the next big thing" in social media. BeReal randomly pushes a notifications prompting users "to be real" in a two minutes timeframe: they are then asked to take a picture with the front and rear facing cameras simultaneously.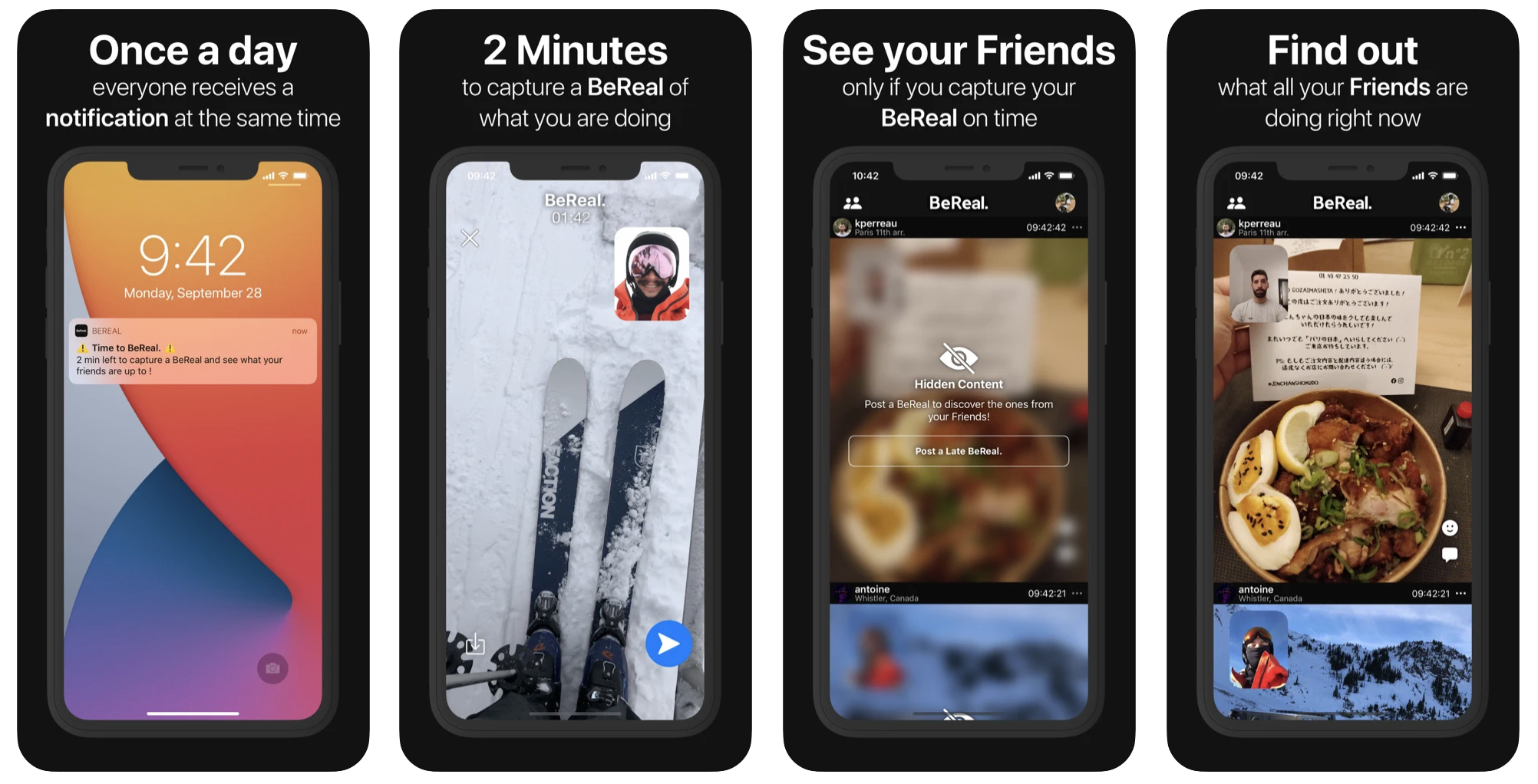 The design idea behind the social network is particularly interesting as it falls under the definition of "counterfunctional things" developed by James Pierce, Assistant Professor of Design at California College of the Arts, consciously or not. In their article, Pierce and Paulos outline an "agenda revolving around the design of digital limitations", which are not limited to just addressing criticism of technology, but may open new and unexplored design spaces. They provide a series of case studies that reflect on the strangely bizarre, the strangely problematic and the strangely useful, exploring the concept of "functional opposition". The Ultra Low Resolution Camera, for example, reduces high resolution photos to matrixes ranging of 10x10 pixels. Similarly, the Reverse Polaroid Camera degrades pictures reducing their resolution the longer one looks at them, reaching after quite some time a resolution of 1x1, or a solid color. The authors outline a prompt schema to produce counterfunctional objects:
Normally one can [a "positive function"]. Now one can not [a "countered positive function"]. But now one might (not) [a new (counter)function].
BeReal does exactly this by introducing a barrier in using the app: you can interact with it only when you participate in the day's notification, which you have no idea when it's going to arrive. This rush of anticipation is a specific feeling that no other social media platforms has right now. The requirement of posting a picture after the daily notification has been delivered blocks pictures from your friends list: indeed, the app uses a roadblock to push you posting a picture, producing data with it.
If we look at the app with the design process outlined by Pierce and Paulos, we would get a description of BeReal similar to this one:
Normally one can take a picture whenever they want. Now one can not be time-limited on when to take a picture. But now one might not have control on when they take a picture, revealing the candid moments in which they are at the realest to their friends dictated by an algorithm that ignores your current situation.
This is not the first time a similar approach has been taken to social media platforms: Minutiae predates BeReal and it provides a similar experience: a worldwide notification prompts you to document what you're seeing daily. Contrary to BeReal, there is no friends list and no social capabilities, which may be the reason why it was less viral compared to BeReal.

To conclude, BeReal provides a nice case study where the design of limitations and roadblocks provides an environment that shifts how people use a platform. Right now, the use of the app is pretty lighthearted, and it does not prompt deeper reflection on how we approach it. Tech journalists ponder on how BeReal changes our relationship with digital platforms and the data we produce on it (1, 2, 3), citing addiction, FOMO, inauthenticity without directly acting on them, but these are all external commentaries, and we don't know how they align with BeReal's intentions.

© bndndr